Brews For Bales - Fundraiser for a Farmer | Sunday 26th August | Beach Hotel, Byron Bay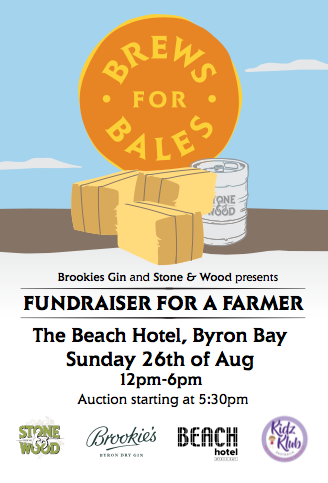 Byron Bay may only be a small town sitting on the most eastern point of Australia, however it's home to a very special community who genuinely want to make a difference.
'Parma For A Farmer' was just one of the initiatives rolled out throughout the Byron Shire which we were proud to be part of and donate much needed funds to 'Buy A Bale' supporting Aussie farmers and rural communities throughout Australia. We don't want to stop there...
With help of our friends at Stone & Wood & Brookies we've have rallied together to host 'Fundraiser For A Farmer' on Sunday 26th August here at the Beachy.
Kicking off from midday, bale up the whole family to come along, there is face painting for the kids, live entertainment and a stack of prizes from local businesses to auctioned throughout the day.
All proceeds from the fundraiser will be donated directly to our drought stricken Aussie farmers and their families.