Comedy at the Beachy with Mandy Nolan & Mandy Knight - UK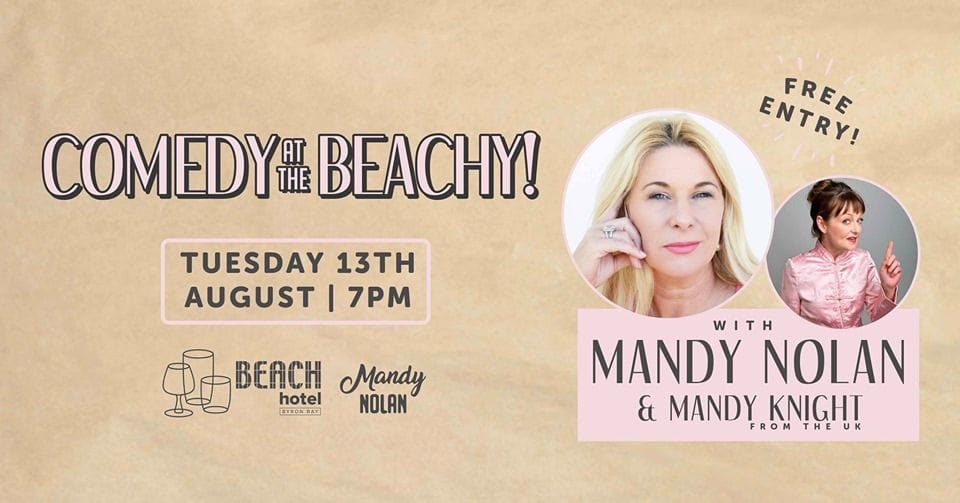 Double Mandy For Comedy At the Beachy!!!
Mandy Nolan has been making the people of Byron laugh now for almost three decades, she's become something of a comedic icon in the Bay where Mandy speak is part of the vernacular so it's perfectly fitting that she should team up with one of Byron's most iconic venues: The Beach Hotel. Or as it is lovingly known by locals: 'The Beachy'. August sees the launch of Comedy at the Beachy with International comedy superstar Mandy Knightyes it's a double Mandy! Mandy Knight is the 2018 winner of the Comic's Comic, a prestigious Award judged by comedians throughout the UK.
Starting her career in London back in the 90's Mandy was a regular on all the TV stand-up shows Live at Jongleurs, The World Stands Up, Live at the Comedy Store, Comedy Network, Comedy Blue, Melbourne Tonight and Australia's biggest panel show Good News Week. Her comedy acting was called upon for sitcoms as well, performing in Baddiel's Syndrome and Jo Brand's Like It or Lump It.
In 2017 Mandy returned to the Edinburgh Festival Fringe after a twenty year hiatus, with a show that was simply her best work to date. The production, The Dark Knight, was a spectacular personal journey of discovery on why she has to make the unspeakable, hysterical. It is no wonder the Comedy Store recently wrote 'She's the act that loves nothing better then putting a little bit of wrong in your ear.' And she certainly does that. A rapid fire wit of one liners and crowd interaction, Mandy Knight is relentlessly funny. It's no surprise The Independent called her 'A virtuoso comedienne' Nobody is safe from this woman's relentless wit.
Two Mandy's are always better than one come and catch the local Mandy and the International Mandy at Comedy at the Beachy, on Monday 13 August. It's 7pm and its free! (This event is for 18yrs +)