Saturday Slide 25th February 2017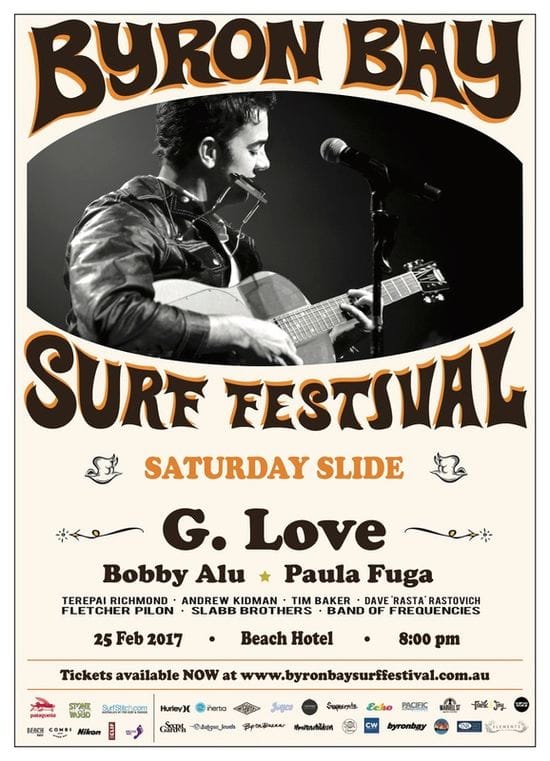 BBSF 2017's "SATURDAY SLIDE" IS SHAPING UP TO BE A SURF SOAKED PARTY LIKE NO OTHER
By Susie Forster
28 Jan, 2017
G.Love
Byron Bay Surf Festival punters are in for a real treat on Saturday night at the Beachy when the headline act G.Love plays his only Australian concert for 2017.
When G.Love, aka Garrett Dutton, isn't playing his world-class blend of bluesy alternative hip hop, he fosters puppies and names them all with names starting with a P. That's just the way he rolls. Or perambulates, perhaps.
Maybe it's because he's from Philadelphia.
Dutton started out Byron-style, busking on the streets for $20 a session, and quickly realized there was serious career potential in music. From his first record in 1994 his career took off, he wrote his signature hit "Cold Beverage" and now he tours the world with his band Special Sauce.
"We are basically like a blues band, a trashcan blues band. I thinkwe've really reconnected with the roots of the blues that we love and have spent a lot of time trying to be a part of and just keep pushing it."
His, "sloppy", and "laid back" blues sound encompasses classic R&B and his Facebook page lists some of his influences as Bob Marley, Robert Johnson, De La Soul, Beastie Boys and Bob Dylan. There's no doubt his unique blend of Hip hop inspired blues has carved out a place of his own in the music scene.
"All my friends were in bands playing music like The Cure and stuff. I am like, that's not it for me. I'm playing the acoustic and not just strumming it, I'm playing the shit out of it. I'm also playing the harmonica, not just breathing; I'm really trying to play it."
Writing and playing music may be his first love, but after that surfing rates pretty highly with G.Love. "When I'm not playing music and not working, and I don't have any responsibilites, the thing I always want to do is go on a surf trip." Get out of the water and catch G.Love while you can at the Beach Hotel on Saturday 25th.
Bobby Alu
Born on the Goldie, Bobby Alu is a charismatic and cruisy songwriter & travelling musician. Having made a name for himself drumming and playing with world class greats such as Xavier Rudd, he honed his Island vibe sounds with baritone ukulele, pacific beats, tasty harmony and powerful drumming to create a vibe of signature smooth hammock music. Inspired by his Polynesian heritage and following a strong family lineage of performers he writes songs of love, life & travel.
"When I am writing from the heart the island vibe is just so strong. I spent some time in Samoaand so many things about my personality made sense. It's a strong part of my identity."
His star is on the rise, having played at Bluesfest, Woodford Folk Festival, Nannup festival, Island Vibe, drummed with Xavier Rudd, OKA and more. With a band that grooves like Withers, moves like Marley, charms like Harper but smooth like Fat Freddys, you can't go wrong with Bobby Alu's tropical safari style.
Paula Fuga
Supporting Bobby Alu you'll catch the exquisite vocals, powerful lyrics and gorgeous melodies that have earned Hawaiian singer/songwriter Paula Fuga widespread critical praise and an incredibly dedicated fan base.
Paula's love of cultural music has seen her, armed with her trusty ukulele, perform 3 times for the US president, record with the likes of Ziggy Marley, Jack Johnson, Nahko Bear, Trevor Hall and Mike Love, spreading the thoughtful and evocative voice of the Hawaiian people across the world. Praised for her originality in song composition and ability to stir the deepest emotions with spellbinding and soulful vocals, Paula Fuga has established herself as one of Hawai'i's most respected live performers.
"Music is my first love. Love is my first language."
She makes countless efforts to participate in various community projects focusing on protecting the environment and spreading the fundamental values of her native Hawaiian culture. Don't miss this chance to experience this powerful exchange yourself on Saturday.
Band of Frequencies
Band of Frequencies
These masters of laidback musical mellowness draw their influences from a vast spectrum of roots, rock, electronic and psychedelic styles. Their sound has been described by Melbourne Magazine VULTURE as "like a stoned rollercoaster of music; rolling up and down, drifting through blues, rock, roots and psychedelic vibes."
The name Band of Frequencies refers to the concept that each person vibrates at a certain frequency with the lowest being fear and hate and the highest being love and compassion.
To complement their more abstract inspirations, there's also a strong thread of activism running through the band. In 2011 they went on a month-long kayaking trip with surfer and environmentalist Dave Rastovich that followed the migration of the grey whales and aimed to highlight the plight of marine animals. Lead singer/songwriter Shannon Sol Carroll says the activism, however, is not something he wants to preach.
"I don't really want to walk around the world with my cup full of my own ideas; I'd rather have an empty cup and just listen as much as I can. Because you just learn so much more that way. The most important thing for us is to learn as much as we can."
Band of Frequencies will be joining legendary filmmaker, Jack McCoy, for the Saturday Slide to live score the 25th anniversary screenings of his iconic surf films including "Bunyip Dreaming" and "The Green Iguana".
Purchase your tickets here.